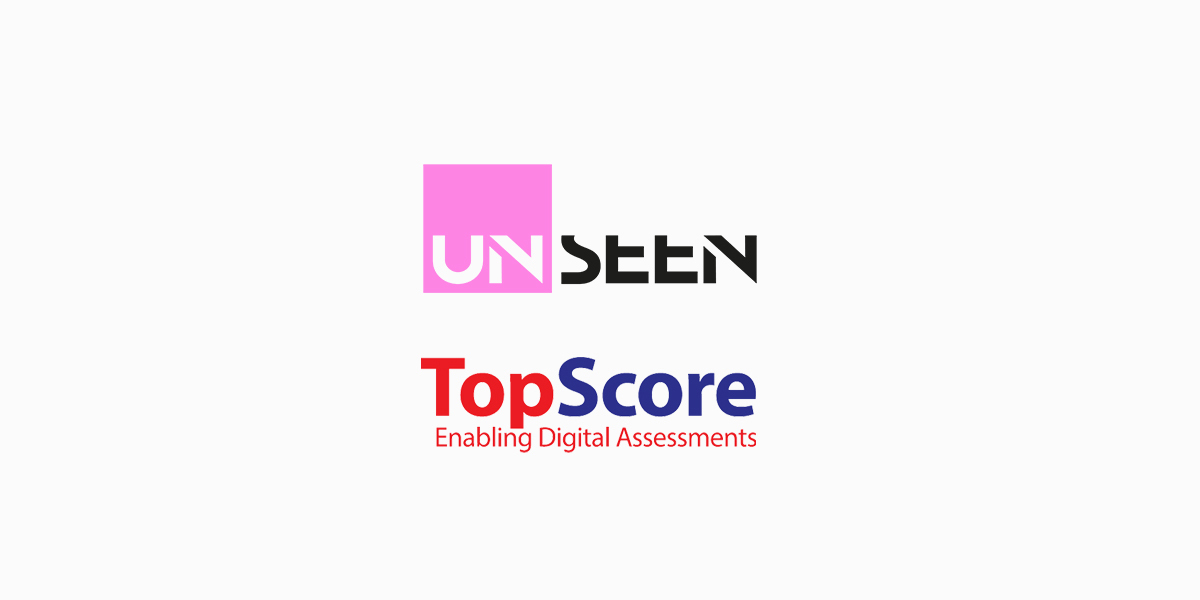 TopScore has been acquired by the Unseen Group (formerly Careerpass Network)
It is with great excitement that we can announce that TopScore has been acquired by the Unseen Group. This acquisition marks a significant milestone for TopScore, as we have come a long way since our humble beginnings.
TopScore was founded in 2016 by Phin Naughton and Mithun Bose with the goal of creating and delivering the best platform for digital assessment centres and interviews. Over the years we have worked tirelessly and are so proud of what has been achieved – particularly as we have grown the business without a penny of investment, with only our dedication and ambition to create and deliver the platform we have today.
In 2020 we took on our first employees to help us scale and cope with growing demand, and we've now onboarded over 120 organisations, processed over 100,000 candidates and assessors, enabled 10,800 assessment centres, and seen 868,000 assessments being completed on the TopScore platform.
TopScore's progress and reputation has not gone unnoticed and over the past couple of years we have been approached by several organisations keen to acquire us.
What is the Unseen Group?
The Unseen Group is on a mission to build the workforce of tomorrow. It's a group of businesses with shared values and a united goal to improve the early careers market and boost the employability of university students and all early careers people. It includes one of the UK's top graduate job boards, graduate-jobs.com, and a leading provider of assessment centres and employability consultancy services, Gradcore.
Why is TopScore joining?
After speaking with several organisations it was clear to us that there was only one home for TopScore. Phin and Mithun have known the CEO of Unseen, Zac Williams, for the best part of 4 years and he has always shown a keen interest in a strategic partnership with TopScore. From afar we have watched each other's businesses grow and could see that our interests and goals were already aligned.
Our talks revealed how each business would benefit from the other. Unseen's goal to improve the early talent market and build the workforce of tomorrow aligned with the support we offer early talent employers at TopScore, and there was opportunity for us to broaden Unseen's already expansive scope with the work we do with clients across all talent stages. Unseen's group-wide technical and back-office resources will also enable us to continue our growth pattern in the UK and internationally, as well as enhancing our platform offering even further as we roll out new and innovative features.
What will this mean for our existing and prospective customers?
There will be no change to how we operate as a business. Phin (Managing Director) and Mithun (Technical Director) will continue to the run the business and our team remains unchanged. Phin and Mithun join Unseen as part of the group's Leadership Team to aid the growth of both TopScore and the wider group. We're so happy with contracts we have and are more committed than ever to delivering on these and renewing them long into the future. For our RPO, consultancy and agency partners, we are also more committed than ever to continue partnering with you as part of your service offering to your clients.
We're so happy our future is now confirmed and are looking forward to focusing on enhancing and innovating our platform to deliver the best experience for our Administrator, Assessor and Candidate users!
Some final words….
Phin and Mithun want to express their gratitude to our clients, partners, suppliers, employees and supporters for helping us get to where we are today – and a huge shout out goes to those early adopters in 2018 who took a chance on us, and who we are so privileged to have continued working with since.
We could not have done it without your belief in us and we're excited to continue supporting you as part of the Unseen Group.
We would also like to thank our lawyers and advisers who supported on the deal – James Bailleau, Mark Penwarden and Jennifer Bird at Bird and Bird and Omar Habbal at Pollen. Thank you also to the leadership team at Unseen, their lawyers and accountants. It really was a big team effort to get the deal closed in the end!
If you would like further information on this or have any questions about this next step for TopScore, please don't hesitate to get in touch with Phin at phin@topscoretech.com