Are you a candidate attending an assessment centre or interview on the TopScore platform?
Here you will find some useful guidance….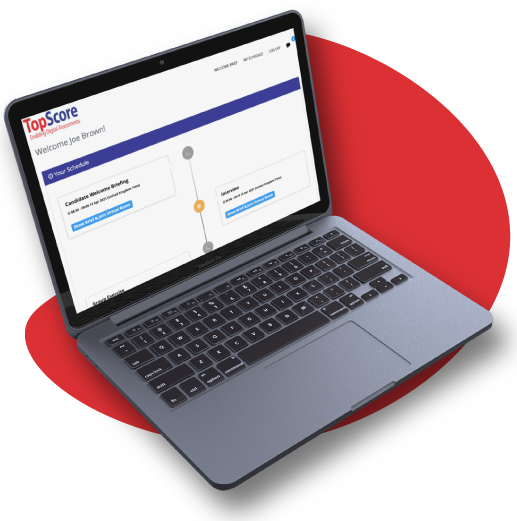 What is the TopScore platform?
TopScore is the technology platform that your prospective employer will use to facilitate the assessment centre or interview that you've been selected to attend.
When will I receive my login details?
Please check with the organisation, however this is likely to be 1-5 days ahead your scheduled assessment centre or interview by email.
Will I need to download anything?
No, this platform is web-based, meaning you will access it like a normal website. The specific URL will be sent in your login email.
What browser can I use?
The latest versions of Chrome, Firefox or Safari. You will see more specific detail about this in your welcome login email.
Can I use a smartphone for a Virtual Assessment Centre?
You can, but it is not recommended as there could be lots of text to read and written exercises to complete.
Can I test my equipment before starting the Virtual Assessment Centre?
Yes, when you receive your welcome login email, you will see a unique link to test your equipment and ensure your device is compatible with our video technology. Please make sure you do test this!
How will I know what I am doing and when?
You will see your schedule of exercises or interviews for the day and will join each one at the start time. All the information will be available when you click in.
If I have a written exercise to complete, when and where will I be able to access it?
On your schedule you will see a clear button to click at the start-time.
Does written work save automatically?
Can I send messages to other people? Who?
Yes there is an instant chat feature in the top right hand corner – you can message your assessors and admins/organisers. You may also receive messages through your assessment.
What are your top tips!?
Test your equipment beforehand

Login the day before your assessment or interview to familiarise yourself

Ensure you are in a quiet setting where you will not be distracted

Enjoy and learn from the experience
What is a Virtual Assessment Centre or Interview?
Your assessment centre or interview will be completed in a virtual environment and you will be taking part online from your own home (or a similar quiet, private environment). All parts of the assessment day will be conducted in this way for you and all the other candidates and assessors involved in the assessment process.
If I have used TopScore with a different organisation, will my login details be the same?
No, they will be different so use the new login detail sent by email.
What are the hardware requirements for a Virtual Assessment Centre?
You will need the following hardware on your laptop, tablet or iPad:
Microphone – inbuilt or external

Inbuilt speaker or external headphones

In-built camera or external webcam
What is the video platform that will be used?
This depends on the organisation so check with them; however, it is very likely you'll be using our inbuilt browser-based videoconferencing with no downloads.
When am I able to login?
24 hours before you first scheduled exercise/activity.
If I login before the assessment day, what will I see?
You will see a Welcome Brief and possibly your schedule for your assessment day. Exercise and interview related information will become available at the scheduled start-time only.
How will I be able to join video meetings?
On your schedule, it will be clear what time you are to join video calls.
What happens if I experience a technical issue?
Firstly, don't panic! There are useful troubleshooting tips accessible on the platform. If you experience an internet or device related issue, you will be able to contact the organiser of the assessment or interview.
I require reasonable adjustments; will this be accommodated?
Yes, please contact the organisation hosting your assessment outlining your needs and the necessary adjustments will be made.
Is there any more information you can give me ahead of my Assessment Centre or Interview?
Please contact the organisation hosting your assessment for this.