TopScore are proud to be featured in their first online news article – the Law Society Gazette. 
Our client, Linklaters, a leading 'Magic Circle' law firm were featured due to their recent move to a complete online graduate recruitment process.
The TopScore Digital Assessment & Interview Platform was featured as we provided the digital platform for Linklaters virtual assessment centre. This consists of candidates in various countries (e.g. Australia, South Africa and India) and assessors/interviewers and the graduate recruitment team located in the UK. Previously candidates flew over to the UK to take part in the assessment.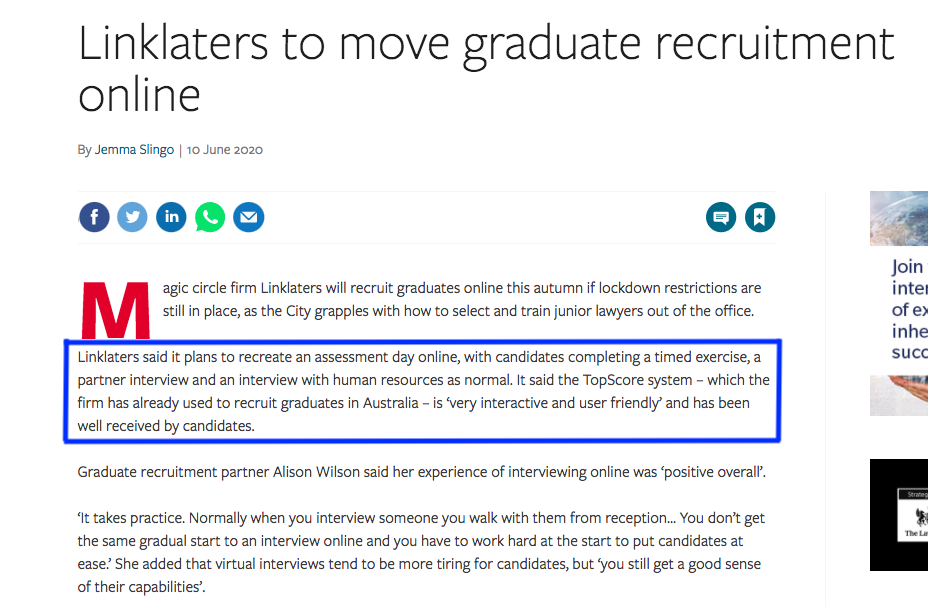 TopScore are really pleased with the feedback that the platform was well-received by the candidates. We have worked incredibly hard over the last 3.5 years to make sure the platform is as interactive, user-friendly and intuitive as possible. This is particularly important for candidates who have a lot on their mind during such pressurised events without the time to learn a complicated system! Neither do assessors for that matter! Here is the link to the full article – 
https://www.lawgazette.co.uk/news/linklaters-to-move-graduate-recruitment-online/5104566.article
Do get in touch if you would like to learn more about the cost saving of using the 
TopScore
 platform for virtual assessment centres or in-person paperless assessment centres.